Skip to Content
Creative Kitchens By Bob: Inspiring Kitchen Design
You might not think a kitchen can be inspiring. But it can. Inspiring kitchen design harnesses established interior design principles and uses the user's personal preferences. A custom kitchen is a perfect way to create an environment where your creativity and inventiveness is stimulated. Creative Kitchens By Bob remodels kitchens in Dutchess County, NY, giving homeowners a place where they can create delicious entrees and savory desserts. You'll feel like a professional chef in one of our custom kitchens.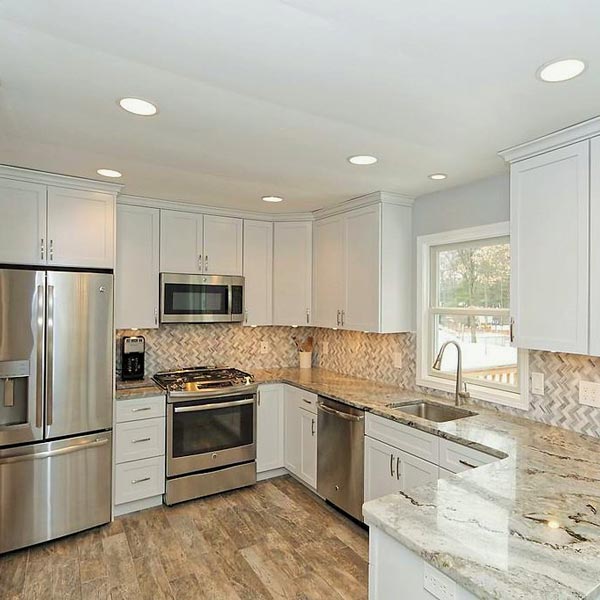 We Use Our Skills to Put Inspirational Design in Your Home
Creative Kitchens By Bob has a full-time design team on staff. Our team uses computer-aided software to show you renderings of what your kitchen will look like. But before we do that, they get to work conceptualizing the design, dimensions, and features that will come together to create the perfect cooking space. From townhouse-inspired, wood countertops to ceiling fixtures with hooks to hang pots, pans, cast-iron skillets, and other cookware, our team uses subtle and flashy design techniques to create a kitchen that bursts with personality and class. Kitchens need to be functional. Our team has figured out how to use inspirational design to achieve ultimate functionality.
Contact Creative Kitchens By Bob Today
None of our design expertise would be worth anything without our ability to provide excellent customer service. We do that in a lot of ways, but one of the most important occurs on site. Remodeling a kitchen is loud, chaotic, and messy work. The job demands a team that communicates with the client and respects the rest of your home. Our owner, Bob Flynn, personally oversees the project and makes sure to keep you up-to-date on every facet of the project. He takes pride in ensuring his design team's creativity isn't wasted, as well as in making sure his clients are cared for. To learn more about our project management abilities, give Bob a call today.
Designed to Fit Your Style, Priced to Fit Your Life