Skip to Content
Kitchen Remodeling in Dutchess County, NY
It's not enough to have access to a talented design team who understands different design styles. It's not even enough to use computer-aided technology to get the job done. For over 40 years, Creative Kitchens By Bob has built a reputation, customer by customer, for providing the final piece of the puzzle: superior craftsmanship. Each piece of hardwood, every panel of marble, plumbing installation, and cabinet is expertly chosen and installed by a qualified craftsman. Our owner, Bob Flynn, is on site to oversee the project and will build a personal relationship with you. Our commitment to quality craftsmanship begins with the selection of building materials. We use trusted suppliers – like Kraftmaid Cabinetry – to deliver outstanding customer service. For superior kitchen remodeling in Dutchess County, NY, contact Creative Kitchens By Bob.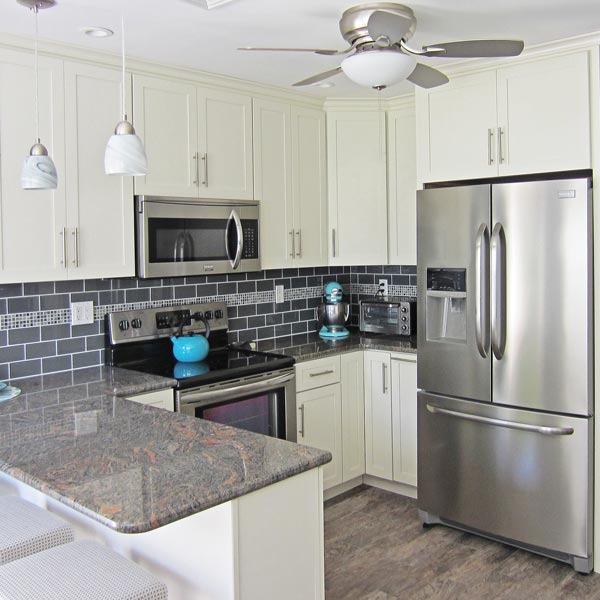 Our Team's Work Speaks For Itself
Creative Kitchens By Bob has years of experience, something that allows us to provide superior craftsmanship and customer service. Three of the ways we do this is by:
We plan ahead
Everything from the selection of the flooring materials to the countertops and cabinetry is chosen in advance. We also use detailed blueprints and an advanced visit to your home to ensure we aren't missing anything.
We have plenty of accolades
Past customers speak highly of our craftsmanship, and we have great ratings across the board. We work hard to create an open and trusting relationship with you. Then we set to work doing the job the right way, instead of the easy way.
Our workers have years of experience
They know how to install countertops of all materials and place cabinetry in the right places. Our team understands the importance of accurately cutting wood for floors and how critical it is to use the right tools and methods to get the job done.
Contact Creative Kitchens By Bob Today
Creative Kitchens By Bob is committed to providing excellent customer service to clients throughout Dutchess County, NY, and in all the cities and towns inside the county. We have over 40 years of experience, and our owner, Bob Flynn, has owned the company for 22 years. To learn more about Creative Kitchens By Bob, contact us today.
Designed to Fit Your Style, Priced to Fit Your Life